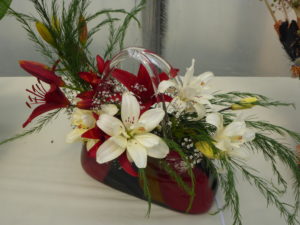 Show off your best lilies and vie for awards and bragging rights. This event is open to everyone to bring in their best lilies and lily inspired designs to be judged according to NALS criteria. Any lily blooming at the time will qualify to enter. Come see the amazing variety and colour of lilies grown in our area and the beautiful arrangements created with lilies.
Judging is done July 21 from 10:00 a.m. to 12:00 and then all lilies and designs are available for viewing until 5:00 p.m. Viewing on July 22 is from 10:00 a.m. to 4:00 p.m.
For more information on how to show lilies and the categories for 2018 go to Shows on the website.